ABOUT US
My husband and I purchased Jan's Pizza in 1991 after deciding we wanted our business to be in a small community. Plain City was a perfect fit!
The overwhelming success of Jan's Pizza led to thoughts of opening another pizza restaurant in town. In 1996, we acquired another Plain City restaurant known as Little Tony's Pizza. In 1998, Jan and Tony's Pizza was born when the two restaurants merged at the west end of town. After much thought and consideration, I decided to relocate to a new location offering many advantages to you!
After 30 years, Jan and Tony's pizza is a thriving, small town restaurant that stuck to Plain City roots! I appreciate each and every customer that trusts us to provide a delicious meal at a great value.
Thank you for your patronage!
–A message from Chris Clark, owner and founder of Jan & Tony's Pizza
OUR COMMUNITY
Jan and Tony's has been a community icon and small town favorite for the past 25 years!
"One of our favorite pizza joints!"
"Love their pizzas, Stromboli, and meatball subs. I'm sure there are more great things but I can't get past these three favorites."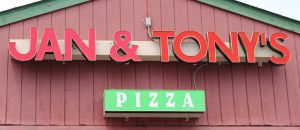 Jan & Tony's Pizza
900 Village Blvd.
Plain City, Ohio 43064
Interested in Employment?
Drop by or contact us now
Hours:
Open daily Monday-Saturday at 11am and Sunday at 4pm